Web design trends are constantly evolving. Whether you're building a new site or want to ensure your existing site is up-to-date, consider utilizing some of these tools destined to be the most popular web design trends of 2019:
Mobile-first Designs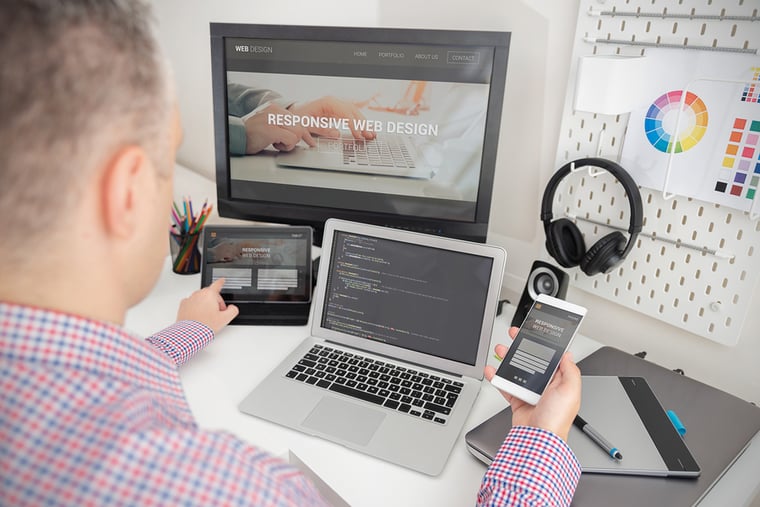 The importance of mobile-friendly websites cannot be understated. According to The Drum, simply being able to access your company's website on a mobile device is not enough — and it hasn't been since mobile searches became more popular than desktop searches in 2015. With so many of your consumers choosing to search the web on their phones, it's imperative to first design or update your site to target mobile users. Create an effective mobile experience for your audience first, then move on to the desktop version.
Minimalism & Bold Typography Designs
Moving into 2019, you'll see many website designs are using big and bold typography to get their messages across. According to Social Media Today, this trend will be prevalent throughout a number of website designs. However, along with this bigger and bolder typography will be a notable focus on a minimalistic design. Quality over quantity seems to be key to the effectiveness of this trend. You'll want to design a website that speaks volumes without becoming overbearing or noisy.
Intelligent Chatbots
Chatbots offer your business an opportunity like no other: interacting with your customers on their schedule. Toolbox reports these artificial intelligence resources will help you enhance your conversion rate. With the ability to provide swift answers to your customers at any time of the day or night, a chatbot can conveniently engage with users and provide them with the information they seek. Users will enjoy the simplicity of streamlined information, and your business will be able to provide a customer care resource that caters to their schedule and desires.
Voice User Interface
Integrating a VUI into your web design performs two functions: it aligns with other emerging technologies, and it enhances your ability to serve your customers. Giving the user the ability to use vocal commands instead of typed commands will enhance their experience. VUI provides a service to users who may require this assistive technology. This inclusivity will broaden your customer base and meet the needs of your diverse users.
Get the Web Design Trends of Tomorrow, Today
Your business needs to offer your audience more than mere web pages. You need to create an experience that will enhance consumer engagement and build a strong relationship with your clients. Make 2019 your year by integrating these emerging web design trends into your site! Contact us at 702-270-8772 to learn more about how to create a stunning website that will engage your audience!