Are you concerned that your efforts to create brand loyalty aren't effective? Do you worry that customers will abandon your business if they find a cheaper or more convenient company to patronize?
The thought of losing hard-earned customers plagues many business owners. Fortunately, there are a few effective ways to generate a strong sense of loyalty among your customers.
Loyal customers are less likely to jump ship because they value what your business has to offer. Here's what you can do to create brand loyalty.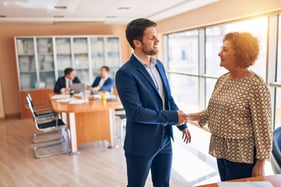 1. Establish a Strong Brand for Your Company
Before you start building brand loyalty, it's important to spend time properly branding your business.
Your company's branding is more than your business name and logo; it also includes the perceptions and impressions held by your customers.
It's easier to build loyalty if you've created a favorable brand with your customers. See that your brand incorporates traits that help you stand out from your competitors.
Customers should be able to easily identify why your brand is different.
2. Build Loyalty That Goes Beyond Transactions
While it's possible to build loyalty based on low prices, a more effective option focuses on engaging with your customers emotionally.
Customers enjoy feeling like they're valued and heard. Relationships that are built on emotions (instead of more logical factors, like price) are stronger and less likely to end due to a single bad experience.
Recognize your customers' special days (like birthdays and anniversaries) and offer them a discount or freebie. Give established customers early access to your best sales and deals.
Pay attention to customer feedback, and make it clear to your customers that you're listening to them.
3. Utilize Social Media
Social media is an effective tool to create brand loyalty. It's easy to engage with and respond to your customers on your social media pages.
This allows your company to improve its customer service and show the world how they'll be treated if they buy from your business.
Approximately 69 percent of consumers are likely to spend more when a business has stellar customer service.
Your social media pages offer numerous activities that can build loyalty while increasing your business's exposure.
You might offer a unique discount code to individuals that share or like your posts. Or, you can give customers who refer a friend to your social media page some type of perk.
This type of engagement works to strengthen your customer relationships. Word of mouth is also a successful way to create brand loyalty and improve the overall impression of your brand.
Need more tips for building brand loyalty? Connect with ADTACK today!