The snickers about those darn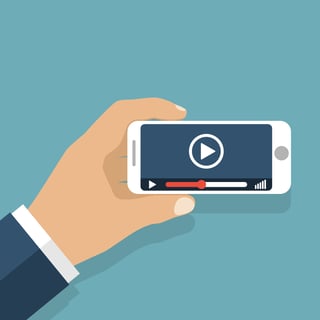 "cord-cutting millennials" have barely quieted down – not to mention the ensuing fears they would hasten the demise not only of cable TV, but satellite and "regular" TV, too.
Now, as it turns out, those rabble-rousing millennials may have tripped a wire of awareness among older adults, too – at least according to some new and compelling research from YouTube.
People are blurring more than the lines between TV and online video; they're blurring the lines once separated by viewing preferences by age. This is hugely significant – and portends some interesting implications for marketing professionals. Consider the three top findings from YouTube's Brandcast 2017 event:
Finding No. 1: People watch TV on YouTube but also YouTube on TV. Specifically, people watched three times more TV on YouTube and twice more YouTube content on TV in the last year.

Implications for marketers: So much for cord-cutting – and the demise of TV in all its forms. It's been more than 20 years since Bill Gates declared "content is king," but it's unlikely even he knew how people today would steadfastly pursue content that interests them. For inbound marketers, the finding serves as another reminder to keep the dial turned up on high quality, original content. People are looking for it.

Finding No. 2: People are going online during the "prime time" hours that were once the exclusive domain of TV. Here too is where that line has grown fuzzy: More 18- to 49-year-olds visit YouTube between the prime time hours of 8 to 11 p.m. (Eastern time) than any TV network – and they're very likely to do so on a mobile device.

Implications for marketers: That last fact is no factoid; it underscores the importance of websites, videos and other content being optimized for mobile devices. This insight also means prime time may be the best time to reach out to your target audience with a promotion, discount or other special offer. Instead of "going fishing," you can toss a fish directly into their net. It's already in the water.

Finding No. 3: "Traditional" celebrities and "YouTube celebrities" are enticing greater followings. While celebrity videos continue to be a big draw on YouTube, the bigger draw is the surge in videos from relative amateurs. Seventy-five percent more channels on YouTube have lured more than 1 million new subscribers in the last year.

Implications for marketers: The writing is on the wall and in capital letters: viewers LOVE videos, so they should play a role in virtually every inbound marketing plan. Videos are an important form of content and you don't need to spend a fortune for one to "go viral" and give your business a shot of adrenaline.
Another implication is that marketers should respond to these insights not in haste and not haphazardly, but with the care and precision that flows from a cogent marketing strategy. ADTACK can help you conceive, develop and implement all facets of your marketing plan to capitalize on the changes brought on by those "cord-cutting millennials" – and the trends they are inspiring to invigorate your business' bottom line.