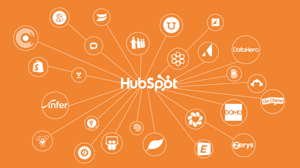 Chances are, if you're reading this post, you have at least heard of HubSpot somewhere in your online journey. Maybe you don't know what it is, or you don't have any experience working on their platform.
ADTACK is here to help you understand more about this versatile platform, and what it can (and can't) do to help your business and marketing efforts. At ADTACK, we use HubSpot and help our customers use their platform.
What is Hubspot?
HubSpot was founded in 2005 by Brian Halligan and Dharmesh Shah. HubSpot "is a developer and marketer of software products for inbound marketing and sales." However, this is a little clinical of a description as to what HubSpot actually does for you.
HubSpot innovates marketing from the ground up. Most companies believe that you have to call every phone number out there and beg people to buy your product, or hope they come into your store, or some combination of the 2.
This outdated thinking can cost you customers and in the long run, money. With the inbound marketing techniques that HubSpot champions, your marketing efforts are focused, clear-cut and easily actionable.
HubSpot's main focus is modern inbound marketing techniques and the buyer's journey. Sure, you want visitors on your site to learn more about your services or products, but what makes you different from your competition? How do you truly communicate with your customers in a way that makes them respond and remember you?
HubSpot has an answer for your business: "Attract. Engage. Delight."
HubSpot has devised and created a sales and marketing platform to help your company do just this, but remember, HubSpot isn't a set-it-and-forget-it app that runs without your presence. It's a tool, like your email, that you have to learn, spend time on, and constantly use and update.
Why use Hubspot?
The main difference that HubSpot champions is looking at marketing as more of a flywheel (with constant stream of returning and new customers), rather than a funnel that has a definite end once the transaction is completed.
Once you know how to use HubSpot, it can be an invaluable tool for your sales marketing efforts, from tracking your sales' team progress to organizing your contacts by where they are at in your sales process.
Certifications to Stand Out
The biggest offering that HubSpot has is HubSpot Academy. This learning center offers 12 certifications and additional learning tracks to ensure that you understand every facet of your inbound marketing strategies, tools and HubSpot offerings.
Some of the tracks are quick to complete, while others take a couple of hours in total, with a test at the end. Your certifications last a year and set you apart from other marketers or sales people.
Tools to make organization a dream
CRM
HubSpot offers a convenient CRM (Customer Relationship Manager) to utilize for almost everything your business could possibly need. You can see previous interactions from your clients, notes that other members of your team have made on the account and even see what pages the client has visited.
Teams can use this data to send out appropriate downloadable guides, set up meetings (another awesome feature), and track where their client spends the most time to ensure the content is up-to-date and relevant to their interests.
Within the CRM, you will be able to customize everything to your heart's content. If you want to include a field in your contact that tells you what their favorite flavor of ice cream is, when their birthday is or anything else, you can add that, and it doesn't cost anything extra.
Lead Capture
Another tool that can be invaluable to your business involves the forms. Not only can you capture all of your leads into one easily found spot in HubSpot, but it also can create a contact with information about what pages they looked at, where the form was filled out from, and how best to reach them. From the contact page, you can call, or email the person within minutes of the form submission.
Blogging Platform
As any good marketer knows, content (namely blogs like the one you are currently reading) can make a difference on your perceived authority in the digital scene.
Blogging with the HubSpot platform is remarkably easy, with SEO suggestions, character counts on your meta descriptions and easy to use insertables to make your blog format exactly how you want it to be seen.
In addition to blogging, Hubspot makes creating landing and pillar pages a snap. You can choose from templates, create a new template or create a new one-off page in a matter of minutes. You can even use and customize already-styled pages and templates from around the world, for free with your HubSpot subscription.
Notifications
Hubspot can provide you with instant notifications about when your contacts open your emails, use your forms and really anything where immediate contact can benefit your leads and possible clients.
HubSpot Support
If you have gotten stuck on any of the tests, or are experiencing a problem with the system, HubSpot experts are available to assist. They keep constant communication as necessary and provide helpful answers to your problems.
Why not use Hubspot?
HubSpot is not the be-all, end-all solution it may appear to be. HubSpot doesn't always offer a one-size-fits-all solution for every business.
Learning curve
HubSpot has a steep learning curve. As a user, you have to be in the system using it every day to understand the nuances and everyday uses. Occasionally, it can be incredibly frustrating to be looking for a simple tool.
Data

and Lack of Integration

When you are looking for HubSpot to provide in-depth data about your website's performance, you might be a little disappointed. You cannot depend on HubSpot alone, which means that you can't check your statistics all in one place.
Constant Attention
If you have HubSpot attached to your email, you will have an automatic contact created every time you receive an email, even if it's an email list you've subscribed to. You have to go into your CRM and delete contacts that aren't relevant.
Lists and segments require quite a bit of time also. If you have a significant amount of contacts in a specific list, it can take a long time to go through them .
You also cannot filter out spam form submissions easily, requiring at least 3 clicks to delete an irrelevant contact, which can be a bit of a time suck if you have a larger website or multiple forms.
Competitors
While HubSpot has an impressive online reputation, there are other inbound marketing systems that could be a better fit for your company's needs and goals. HubSpot is the only all-in-one platform, but if you don't need all of the features of HubSpot, you shouldn't pay for them.
If you are looking for a CRM, explore SharpSpring. Need lead generation software? Consider Wishpond. Don't have time for marketing? Try marketing automation software with Marketo. These solutions offer an alternative to HubSpot, though they aren't perfect by any means.
Verdict
HubSpot is a fully integrated system that has its bonuses and flaws, like any software. The only way you can really know if it's right for your company is if you test it out for yourself.
ADTACK Difference
Whether or not you choose to use HubSpot, your business has marketing needs and ADTACK would like to help your business today. Each of our team members have been thoroughly trained and certified through HubSpot and we can help answer any questions you may have.
Additionally, when you contact us, we will provide a free evaluation of your needs and begin drafting an ADTACK plan that is customizable, repeatable and widely marketable just for your business.
With over 30 years of experience by your side, your business will grow and thrive. So, don't wait. Fill out our convenient online form or give us a call at 702-270-8772 and find out how we can help you today!