It's a misconception that only certain businesses or industries can benefit from digital marketing. Your marine dealership can increase boat sales and provide a better customer experience with the right digital marketing strategies.
Solutions Digital Marketing Can Bring to Your Business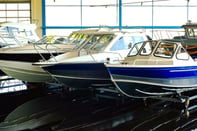 Digital marketing strategies can do more than help your dealership boost its boat sales; they can also assist you with addressing shortfalls in your operations or business model. These solutions will broaden your company's reach so you aren't leaving potential customers untapped.
A Stronger Online Presence
Consumers are increasingly using the internet for product research and to guide their buying decisions. There are numerous benefits associated with using strategies that encourage a strong online presence, including:
Potential customers are more likely to buy from a company that they're familiar with. Improving your brand awareness can help you improve your boat sales because customers will view your brand as a reputable, trustworthy alternative.
Improved Social Engagement
Don't let your social media accounts fall by the wayside. Instead, use digital marketing strategies to produce content that will attract new customers and appeal to existing customers.
It's important to optimize your content so that it ranks favorably on search engines. This is a simple way to help interested consumers (potential leads) find your company.
Better-Qualified Leads
Many digital marketing strategies, like inbound marketing, work to produce stronger leads that are more likely to convert to boat sales.
Targeted Ads
Targeted ads are advertisements that appear only to your specified customer persona. You can target your ads using a variety of criteria, including age, marital status, income, and gender. This allows you to ensure the individuals most likely to drive your boat sales see your ads.
Localization
Geographical location is another characteristic you can use to target your ads to consumers in your ideal location. For example, customers in landlocked states are a hidden audience for many marine businesses. If these individuals fit your ideal customer persona, localization enables you to reach these potential customers.
How Our Digital Marketing Agency Can Increase Your Boat Sales
The ADTACK team will work to maximize your company's potential. You can depend on our experts to understand the demands of the marine business industry. To measure the success of your campaign, our agency will make evaluations based on applicable data. At ADTACK, we take pride in providing tangible results for our clients. Contact us today at 702-270-8772 to start increasing your boat sales.