The past couple of years has seen a rise in podcasts as a major format for content production. It's not surprising then that many businesses are becoming increasingly interested in the power podcasting has as a marketing strategy. Podcasting not only allows you to communicate to a wide audience and achieve greater engagement with potential customers, but can also help keep your existing customers connected to your brand.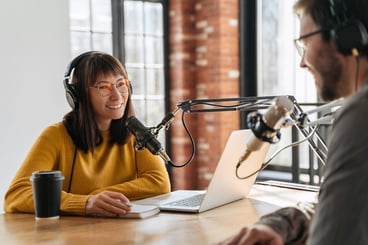 With that being said, the quality of content you air on your podcast will significantly influence the kind of audience you are able to attract. But if you don't have the budget to start your own podcast, you might want to consider hiring a professional podcast studio to help you generate content that meets your expectations as well as those of your target audience.
Here are some benefits that you can enjoy from working with a professional Las Vegas podcast studio:
1. Access To Professional Equipment
When setting up a podcast, there is some essential equipment that you'll need. This includes recording equipment such as a high-quality recording microphone, pop filter, recording software, studio-grade headphones, and an audio interface. You also need editing software to edit your content.
Unfortunately, most of this equipment can be quite expensive. So unless you're planning to make podcasting a big focus area for your business, you're better off just outsourcing from a professional studio. Hiring a professional podcasting studio allows you to enjoy access to top-of-the-range equipment without having to spend thousands of dollars to purchase them.
2. Access To Expert Knowledge
While anyone can source the equipment necessary to start a podcast, creating high-quality content requires skills and expertise that one develops over time. Fortunately, hiring a professional podcasting studio gives you immediate access to a team of professionals who are experienced at recording and editing content as they do it every day for a living. As such, working with a podcasting studio will ensure you're able to produce quality content that meets your audience's standards thus raising the profile of your brand.
3. Better Content Delivery
In addition to creating content that audiences want to listen to, professional podcast studios are usually staffed by producers who understand the best way to convey content to different audiences. Consequently, hiring a professional podcast studio to market your brand and products helps you deliver content in a way that appeals to your target audience.
Hire The Best Professional Las Vegas Podcasting Studio
It's no secret that we live in a world where people want to access information on the go. If you're thinking of adopting podcast marketing to grow your business, you need to ensure you have a reliable partner to work with. At ADTACK, we offer customizable marketing solutions that are aimed at getting you results in real time. Contact us today to book a consultation.