Operating a successful CPA firm is no easy feat - requiring deep knowledge and a highly specialized skillset. So what does a CPA firm do when they want to grow and start investing in marketing their business? Trying to take it on themselves can be time-consuming and frustrating. Hiring just any marketing agency can be costly and yield little to no results.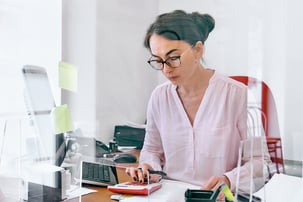 They need an expert who understands how to implement winning marketing campaigns and how to connect with a CPA firm's ideal audience. They need a dedicated CPA marketing agency.
How To Find the Right CPA Marketing Agency
If you're looking to employ a marketing agency to widen your audience and attract more customers, you want to ensure that the agency you hire understands your needs and is up to the task.
Here are a few things to consider when hiring a CPA marketing agency:
1. Examine Their Track Record
When vetting whether a marketing agency is right for you, it's wise to look at their history of clients as this will give you great insight into whether they have the capacity to drive your marketing objectives.
You want to ask questions like have they ever worked with a CPA firm? If so, how many? What were the results? A reputable marketing agency should have no problem sharing this information with you, especially if they've achieved positive results.
2. Read the Reviews
As you may already know, customer reviews and testimonials can provide very important feedback about an organization. So it's important to pay attention to what others are saying about a marketing agency.
Positive reviews not only prop up an agency's reputation but also inspire confidence in its ability to deliver the results you're looking for.
3. Find Out the Scope of the Services They Offer
When hiring a CPA marketing agency, you want to find out whether it's a full-service marketing agency that handles everything from website development and paid search to highly engaging video marketing. Or do they only deal with social media posts and blogging?
The latter isn't a cohesive and effective marketing strategy and could actually yield a negative ROI. A full-service marketing agency has the expertise to do it all.
Choose a CPA Marketing Agency that Delivers
Are you looking for a CPA marketing agency to help you increase your online presence and boost conversions? If so, ADTACK is the right partner for you.
We have worked with many CPA firms and have achieved measurable results and growth. We know what strategies work for CPA firms and (most importantly) what strategies don't. Connect with us today for a free strategy session to see how we can begin growing your CPA firm!