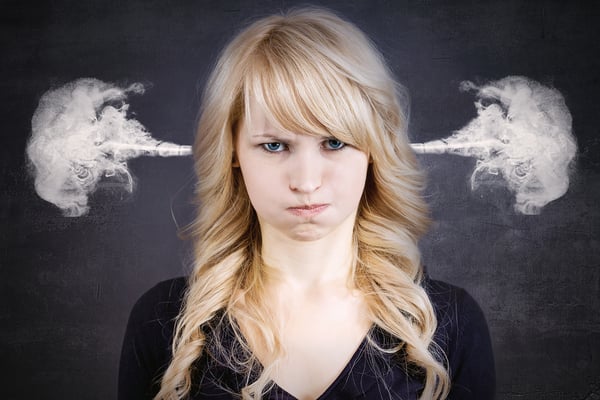 Unfortunately, no matter what industry you work in, it's impossible to make everyone happy. With today's technology however, it's easier to have a small situation blown out of proportion and plastered all over social media sites.
No business is immune from negative reviews. It's frustrating, yes, but how you respond to them can make a big difference in how other customers – and potential customers – perceive your company.
Sometimes, even the simple act of reading and responding to a negative review can change a customer's "I'm never coming back here!" to a lifelong customer. While rare, with the right response, anything is possible.
The Don'ts
Don't ignore negative comments
Letting a negative review stand without a response indicates several things that a business cannot afford. It can represent a lack of empathy on behalf of the company, a disinterest in their reputation and the perception that they are out-of-touch with customers and today's technology.
Even if the review is unreasonably nasty, it represents an opportunity to offer a counterpoint.
Say you have already spoken to and resolved your dissatisfied customer's issue on the phone or in person. The online community won't know that and with smartphones, the review could have been posted before you even knew there was a problem.
Take the time to craft and post a response so that not only will others see it, but the dissatisfied customer becomes a happier one.
Don't Feed the Trolls
Some people just leave negative reviews because they can. Others like watching the world burn. Take a couple of seconds to research the poster. If you see a bunch of negative reviews in a short amount of time, chances are they're a troll.
If you are a victim of trolling, don't feed them. You have a couple of options with a trolling situation. You can ignore it or you can respond with a generic "Thank you for your feedback."
Don't Lose Your Temper
It can be incredibly frustrating to see a one-star review for services rendered to the best of your ability. The temptation to snap at a nasty reviewer can be great, especially if it seems to be a false review.
Don't fall into the trap. A hot-headed response to a negative review can be just fuel to the fire and even more detrimental to your business.
Don't Hide or Delete Negative Reviews
Customers expect to be heard, especially when they are dissatisfied with a service or product from your company.
Some sites won't let you take a review down, but there are some that still do. Don't delete them as it can escalate any issue into a bigger problem.
Don't Be The Only One Responding
Two people reading a sentence can take away very different meanings.
Sometimes, you may see a negative review as one of the worst things that someone has ever said about your company. A fellow coworker may provide a calmer head and a different interpretation.
Ask for help in crafting a response. After all, two heads are better than one and you are more likely to have a better response.
Don't Have Unrealistic Expectations
Sometimes, people are mean for the sake of being mean. Even the most carefully thought out response and resolution may not change someone's mind. The important thing to remember is that you tried and your efforts will be seen by others.
Don't Be Afraid to Move the Conversation Offline
Responding to the reviewer by asking them to contact you directly, on the phone, chat or in person can go a lot further than someone fuming and ranting against your company.
Don't Ask Your Reviewer to Take The Reviews Down
While you may not want to have the rest of the world read the negative review, if you have done your due diligence, it can help you in the long run.
You've shown that your business cares. You can ask the reviewer to update their review to reflect the resolution.
The Do's
Stay calm
Even if your online reviewer has ranted against your company, stay professional in your response. A calm statement, especially in response to a scathing review, reflects well on your company.
You should respond politely, leaving emotion out of it. Thank them for their feedback, and stay positive. Don't blame the reviewer, but instead ask them to contact you to discuss specifics.
Make it clear that you strive to give customers the best possible service and would like to speak to them about their experience. If you've changed anything that the customer referred to, make sure to mention that in your response.
Use the information to improve your business
While it's true that some customers may be extremely difficult to please, negative reviews can contain some valuable insights that you can use to improve your business.
Even though it can be hard to read negative comments about your business, think of them as free consumer research.
Keep records of your business' reviews and look for patterns. If you see the same issues raised repeatedly, they clearly need to be addressed. Use this review as a way to create protocols to prevent the incidents.
Ignoring negative reviews or responding to them in anger reflects poorly on your business. Instead, craft a reasonable response that highlights your company's positive attributes while showing the reviewer respect and listening to what they have to say.
Ask for Positive Reviews
Ask your current customers to leave helpful and positive reviews to ensure that the one negative doesn't take away from everything good that your business does.
The ADTACK Difference
Tired of negative reviews? Do you need help with online reputation management? With years of experience, ADTACK can help you manage your reputation and so much more. Contact ADTACK by giving us a call at 702-270-8772 or filling out our convenient online form.
---