With summer just around the corner, most people are going to be renting boats for the water activities they're planning to engage in. As a boat dealer, it's vital to find new ways to improve your boat marketing strategy and stay in touch with your customers so you can capitalize on this boating season and drive up your sales.
In today's highly digitized world, effective online marketing can be a huge asset to your business. After all, everyone begins their search for products and services online. For this reason, you need to optimize your online marketing strategy to draw more customers to your business and away from your competitors. Here are some of the ways in which you can sharpen your boat marketing strategy in preparation for summer.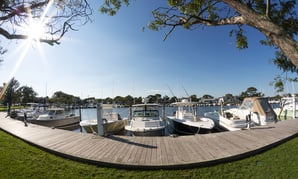 1. Leverage Video Marketing
It's no secret that video is the most popular medium through which people consume information. Not only is video content more entertaining to consume but it is also easier to understand and very informative, which is why you need to build a powerful video marketing strategy for your business. Posting relevant and educational videos about boating on your website and social media pages will help raise the profile of your business online and build customer confidence in your brand.
2. Run Pay-Per-Click Ads
Pay-per-click is a powerful online marketing model that which puts helps to promote the visibility of your brand in front of your target demographic. PPC advertisements can bring immediate traffic to your site, which is incredibly beneficial if you run a fledgling startup.
It can rapidly boost your online profile by making your brand visible in front of your target audience when they're browsing or searching online, resulting in greater traffic and ideally conversions. So, if you're targeting your customers properly, an effective PPC marketing strategy will help you generate quality leads that you can then convert to sales.
3. Share Success Stories and Testimonials on Social Media
Most people tend to trust the opinions of customers about a product or business, more than they trust what a business says about itself. In fact, a report by Big Commerce has established that 88% of consumers trust online reviews and testimonials by other customers just as much as personal recommendations.
So, when building your online boat marketing strategy, you might want to share positive customer testimonials on your social media pages. Not only will it enhance the reputation of your brand, but also increase your conversions.
Choose The Right Online Marketing Company
If you're looking to truly set yourself apart from other boat dealers this summer, it is absolutely critical that you build a powerful and effective only marketing campaign. At ADTACK Marketing, we are dedicated to providing our clients with holistic online marketing solutions. Contact us today and let us boost your boating business this summer.