By now, we've all gotten comfortable living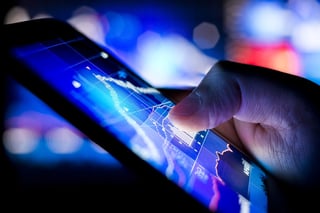 the future of marketing: digital interactions, social media, mobile and hyperlocal targeting, and consumer-controlled advertising. Of course, comfort only means it's time for the newest arrival, and this one will be another exciting development for the marketing world.
Say Hello to the Micro-Moment
A micro-moment is when people automatically turn to the web in search for immediate information. Whether it's to find an answer to a question, make a purchase, watch a video, or take an action, these moments are full of intent and packed with decisions. Google compiled a few examples of these micro-moments to help describe the behavior along with some statistics to make the case:
Almost 70 percent of leisure travelers who own a smartphone look for travel ideas during spare moments. These spare moments include waiting in line or waiting for public transportation.
More than 90 percent of all smartphone users look up information while in the middle of a task.
More than 80 percent of smartphone users look for information on their digital devices when making a purchase decision in a store.
Now that we all walk around with computers in our back pockets--computers that are more powerful than the heftiest desktop computers from only a decade ago--today's consumer has the expectation of instant results, and marketers must be ready to deliver.
Staying Ahead of the Curve
To stay relevant in these micro-moments, advertisers and marketers have to change the game plan completely. The last game-changer was the shift from broadcast-type messaging found in television and radio commercials, and eventually in email blasts and banner advertising. These all gave way to consumer-focused messaging, personalization, and real-time interaction with consumers.
Now, we have to work on not only being present for these micro-moments, but also delivering on the expectation of instant results. We also have to add in the emerging trend toward the automated assistance found with apps like Siri and Ok Google and at-home devices like Amazon Echo and Google Home. The takeaway for marketers is that they must be present and ready to assist at a moment's notice.
Harnessing the Opportunity
Along with these impulsive micro-moments comes a deluge of data for marketers to put to use. The first step is to sift through the information and discover when consumers are finding you and your competition. Find out what questions are driving people to pick up their phones or ask Alexa to do something, and map out these patterns of behavior. In those patterns is where you'll find where you can fit in. Make sure your content strategy is ready to meet these demanding needs, and that it is more focused on consumer behavior--not selling--than ever before.
When you're ready to dive into the world of micro-moments, ADTACK can help. From mobile and local search optimization to comprehensive strategy analysis, we've got you covered. Contact us for a free consultation today.