You've set aside time daily to post, interact and engage on social media. You know where to find all the files and you know the message you want to convey.
Now you can spare yourself valuable time by consulting our cheat sheet below, compiled with the help of Hubspot's blog post. All data is given in width by height unless otherwise stated.
(px= pixels)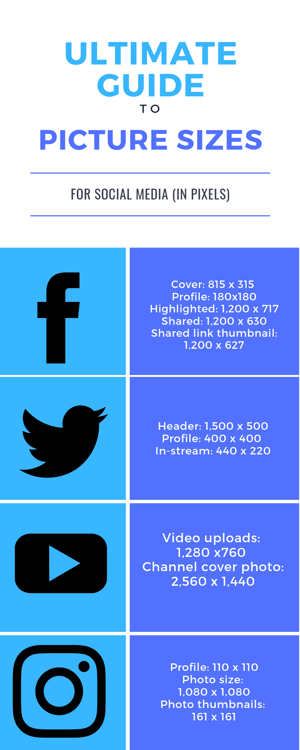 Etsy
Thumbnails: 75 x 75 px
Listing pages: 170 x 135 or 155 x 125 px
Profile photo: 400 x 400 px
Shop Icon: 500 x 500 px
Order receipt banner: 760 x 100 px
Mini Banner: 1200 x 160 px
Big and Carousel Banner=1200 x 300 px
Collage Banner: Depends on number of images.
For 2: 600 x 300 px.
For 3: 400 x 300 px.


For 4: 300 x 300 px.

Team logo=170 x 100 px
Item listing photo= at least 1500 px wide.

Tip

: Keep your background clean and light to appeal to prospective buyers.
Facebook
Cover photo: 815 x 315 px
Profile image: 180 x 180 px
Highlighted image: 1,200 x 717 px
Shared image: 1,200 x 630 px
Shared link thumbnail image: 1,200 x 627 px
Tip: For the best results, increase the image resolution at the same scale as the minimum size.
Instagram
Profile image: 110 x 110 px
Photo size: 1,080 x 1,080 px
Photo thumbnails: 161 x 161 px
Tip: Maintain an aspect ratio of 1:1 on square photos.
LinkedIn
Background image: 1,500 x 425 px
Profile image: 400 x 400 px
Career cover photo: 974 x 330 px
Banner image: 646 x 220 px minimum
Standard logo: 400 x 400 px maximum
Tip: Choose your banner image carefully; it's one of the most prominent features on your page.
Pinterest
Profile image: 165 x 165 px
Board display: 222 x 150 px
Pin sizes: 236 px wide (height adjusts with platform)
Tip: Since creating boards is vital, select photos that are relevant to each board.
Tumblr
Profile image: 128 x 128 px
Image post: 500 x 750 px
Tip: When posting, pick a photo that complements your brand and fits the page layout.
Twitter
Header photo: 1,500 x 500 px
Profile image: 400 x 400 px
In-stream photo: 440 x 220 px
Tip: Follow the maximum file size of 5 MB for photos & 3 MB for animated GIFs.
YouTube
Video uploads: 1,280 x 760 px
Channel cover photo: 2,560 x 1,440 px
Tip: Many different platforms and devices can stream videos, so be sure to optimize photos for each one.
With this info at your fingertips - which social media channel will you tackle first?
An ADTACK Plan For You
If you are looking for help with your social media efforts, contact the ADTACK team at 702-270-8772 or fill out our online form. We look forward to hearing from you and helping you ADTACK your marketing efforts.