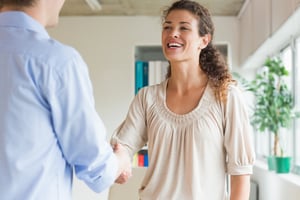 A company's marketing campaign should be attracting as many customers as possible. However, it is nearly impossible for marketers to reach and engage everyone.
Marketers must launch targeted campaigns designed to interact with potential customers. Using the array of marketing tools available to show people how a company's products can solve their needs can position the company as an expert in their field.
But when and how should this be done? That is where buyer personas will come in.
WHAT IS A BUYER PERSONA?
Buyer personas are semi-fictional representations created by marketers to represent their ideal customer based on both research, real data and educated guesses. They include comprehensive details about the individual, including age, profession, family life, hobbies, goals, motivations and even a picture if desired.
Although buyer personas are technically fictional, the information that defines them is not. An individual buyer persona's features are defined by information compiled from real consumer research.
A buyer persona helps you understand what your customers are thinking and doing as they weigh their options. When you know how to help buyers evaluate your approach on their own terms, you build a bond of trust that competitors can't match.
Buyer personas are created to give companies' in-depth looks at their ideal consumers' wants, needs and pain points.
The level of detail provided by buyer personas go well beyond those of basic demographic or statistical data, allowing marketers to thoroughly examine target audiences from a human perspective.
HOW CAN BUYER PERSONAS HELP YOUR BUSINESS?
A buyer persona can reveal that customers trust information from peers, professional events, family, social media and reputable blogs but they won't be receptive to any information received via television commercials. Or the opposite may be revealed, where a customer can be startled by the advertisements that suddenly appear right after they seemingly thought about it.
Depending on the case, a marketer should focus on reaching their target audience via the appropriate channel, whether it's referrals, social networking, content marketing or even attendance at professional events.
A clearly outlined buyer persona is invaluable to a business because it will create alignment among the entire company by providing a point of reference among employees in every department.
HOW TO BUILD THE PERFECT BUYER PERSONA
As it was mentioned earlier, buyer personas are created based on facts about real consumers, so this is where a persona's development should begin.
Gather Data
To start, create buyer personas for your three best performing target customer groups. You can always create more as the need presents itself.
Some of the first steps you may want to take may feel like you need to interview as many people as possible. Instead of doing incredibly broad surveys and focus groups, conduct individual interviews and use data mining tools to gain the necessary and invaluable knowledge for your personas.
Important data to collect should include the following:
Demographic information,
Job information,
Pain points,
Goals,
News and information preferences
And objections to your product or service.
The answers to these questions provide a valuable base for persona development. You should also factor in your goals when deciding what direction to go in.

That being said, you should still attempt to conduct traditional market research. Consider setting up focus groups to get the largest range of data possible. You should also conduct one-on-one interviews with both your target and current customers.
Another avenue to consider? Surveys. You can generate a tremendous amount of data by sending questionnaires to your existing customer base. If possible, consider offering a small incentive to customers that complete your survey. Little things like a discount code or the possibility of winning a gift card can incentivize your clients to participate, without having to follow up constantly.
Your website and social media analytics can also provide data that can shape your marketing efforts. While analytics programs can't tell exactly you where your potential customers are, they can provide demographic data about the people currently interacting with your site and social profiles. It can also help tell you what marketing efforts are currently working.
One area that often gets overlooked is asking your customer-facing employees. As they've interacted with current and past customers, they will most likely have a wealth of information. Add their information to your buyer personas.
Last, but certainly not least, add your guesses to the personas. If you're short on time or money, you can always add to the profile based on your own observations. This isn't the most ideal solution, but it can help you in the long run, as your experience can provide an additional resource to utilize.
Make Your Persona
Once your research is done, compile it into a persona. Your final buyer persona should look something like this:
Save-the-world Stacey
Stacey is a 35-year-old owner of a travel guide and tour company; she has two children, ages 3 and 7.
Stacey has owned her tour company for 7 years, knows that attracting wealthy vacationers for her business requires her company to consistently make a strong impact; this starts with her employee's attire.
This means that she is constantly looking for new, customizable and good-quality attire to order in bulk. Although she wants to her team to look stylish, she wants to avoid wearing the top brand names to reduce the cost for purchasing these uniforms.
The only thing that matters more to Stacey than her business is her children; the effects that climate change will have on their lives weighs heavily on her mind. As such, she actively works to reduce her own impact on the environment by taking steps like driving an electric car, having solar panels installed into her home, eating organic foods, etc.
She has also considered purchasing clothes that are made with more eco-friendly production methods and materials. She makes $210,000 per year, and would be more than willing to pay the extra price for a clothing solution that is both eco-friendly and stylish.
The clothing issue causes Stacey a great deal of distress. She wants to live a completely eco-friendly lifestyle. Unfortunately, she feels as though buying normal clothes makes her a part of the climate change problem.
However, she also fears that the lack of style she expects from eco-friendly uniforms would significantly hurt the ability to engage clients, who she believes would take her tour company less seriously.
WHO CAN USE THIS INFORMATION?
-A fashion retailer could use this to formulate a marketing approach that would make their company the most attractive clothing solution to consumers like Stacey. With the knowledge outlined in the buyer persona, the fashion retailer could engage relevant consumers with marketing materials that specifically highlight the stylishness and the eco-friendliness of their clothing.
- A marketing agency could use this profile to help Stacey market her tour guide company to vacationers who are seeking out environmentally friendly companies. They can help focus her marketing efforts and attract the right customers.
What now?
Once you've created your buyer persona profiles, you can adjust everything from the words you use on the phone to the content on your website to ensure that prospective buyers receive the right message at the right time in their buyer's journey.
The value of a quality buyer persona cannot be understated. It will help marketing and other teams within a company make the right moves, as well as prevent them from wasting time on ineffective strategies that do not lead to conversion.
THE ADTACK DIFFERENCE
When you are looking to get started on developing a buyer's persona, it can be difficult. If you need help getting started or want a customized ADTACK plan, please contact us today. You can use our convenient online form or feel free to give us a call at 702-270-8772.