If you're on the sensitive side, you might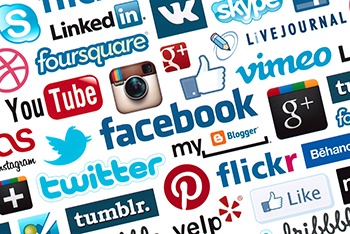 consider it a verbal spanking – and one that stings.
But the people at Hubspot have marketers' best interests at heart and want them to catch up with social media trends (the assumption being that marketers have fallen behind the curve). It may help to keep Hubspot's agenda in mind as the industry leader admonishes:
"We're concerned about what you're doing and more importantly what you're not doing. Your lack of adoption of new channels. Your total disrespect of mobile-first users. Your reluctance to try video. Your fear of spending money on social ads. Your results. We're concerned."
When the sting subsides, consider Hubspot's sensible advice for addressing four social media trends:
Consider new platforms after studying them for relevance. For now, it may be smart to focus on the top five: Facebook, Instagram, Pinterest, LinkedIn and Twitter. But there are dozens of new platforms out there and "you must know your audience and you must focus your efforts on the networks that are most relevant for them," Hubspot says.

Emphasize mobile. There is no way around this social media trend; 80 percent of social media usage takes place on mobile devices. (In this regard, Facebook mirrors this reality. In 2012, mobile represented only 10 percent of its revenue; today, it represents 82 percent.) For traditionalists who prefer laptops and desktops, this reality can be a "hard pill to swallow," Hubspot says. Facebook's Lead Ads could provide the sugar to guide your mobile marketing strategy. "There aren't many shortcuts in marketing or life," Hubspot says, "but Facebook's created a big one with Lead Ads."

Incorporate video. Every marketing campaign should include a video element, Hubspot says, especially considering that younger audiences eschew television and have turned to social platforms for their visual "fix." "If you haven't figured out how your company or brand can produce relevant video, you must act now or risk becoming irrelevant," Hubspot says. "If you can't do it yourself, get help. Lean on good freelancers or hire folks with experience to guide the way."

Consider buying social media ads. They don't have to play a role in every marketing campaign, but they should be vetoed for good reason. And there's equally good cause: ads "are your main path to conversion in social," Hubspot says. "If you can't effectively use paid media to amplify your inbound marketing strategy, you're going to lose to the competition." To take the sting out of this lashing, Hubspot notes a "massive budget" isn't necessary. "Ads can be easily scaled up and down, so when you figure out the right conversion path and reach profitability, dial things up."
With everything else that's probably on your plate, catching up to these social media trends may present more than a dilemma. For assistance, reach out to the marketing experts at ADTACK. Our downloadable guide, Defining: Digital Marketing will help you get started. Then call us for a consultation so you can do more than catch up with these social media trends; ADTACK will help you triumph over them, too.