We live in a world where timing is everything.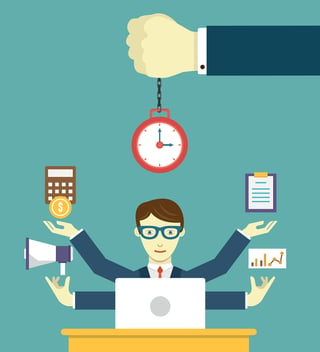 You brush your teeth at a certain time, leave the house to get to work at a certain time and have a schedule of after-work activities you must adhere to. When it comes to marketing your business, this concept is no different. While it may seem like publishing social media posts whenever you create them is enough to drive eyes your way, the fact of the matter is there are certain times of day when your posts will receive optimal attention.
As it turns out, there truly is a science when it comes to social media posting. As Hubspot explains, Facebook, Twitter and LinkedIn all operate on a distinct clock. Unfortunately, there is no one-size-fits-all-solution to tell you which times are best for your business, as there are too many variables to count. However, there are a few guidelines to help you make the most of your social media posts.
Take a look!
1. Know Where Your Audience Is
If you're a smaller shop that's mostly reaching out to a local audience, adhere to a schedule that makes sense for your time zone. Are you targeting working professionals who may be browsing posts on their lunch break? Shoot for noon your time. Are you trying to grab stay-at-home-moms who have a free period during a 2 pm nap time? Work with that.
If your company is more nationally known, here's a tip: 80% of the U.S. population is in the Eastern and Central time zones, so you want to ensure each social media posting you publish falls within the timeline most likely to be seen by the greatest audience.
2. Find Your Foothold with Facebook
People tend to poke around on Facebook during their free time. Saturday and Sunday translate to higher engagement percentages, followed by Thursday and Friday.
Are you looking for shares or clicks? Timing makes a big difference.
9 am is great for overall engagement.
1 pm is optimal for shares.
3 pm will get you the most clicks.
3. Take Control of Twitter
Twitter has its own timing rules. If you're targeting B2B marketing, aim for regular business hours. B2C social media posting works better on the weekends.
Twitter is a commuter's best friend with 181% users more likely to be on Twitter as they travel to or from work.
Wednesdays around noon and 5-6 pm tend to be peak times when workers take Twitter breaks.
4. The Laws of LinkedIn
This platform for professionals operates on bankers' hours. To make the most of your posts here, aim for before or after work hours, or shoot for noon lunch breaks. Tuesday, Wednesday and Thursday are the most productive days of the work week; they are also most likely to get attention when you publish posts.
Feeling overwhelmed by everything marketing entails in today's world? Stress not! Our ADTACK team invites you to download our free guide Defining: Digital Marketing. Take advantage of this offer today!