If you are looking for an inbound marketing agency in Las Vegas to help drive traffic to your business and grow your sales, you've come to the right place. In this post, you will learn how inbound marketing can help you achieve your marketing objectives and help you attract new customers. Before we jump into it, let's first demystify what inbound marketing is all about.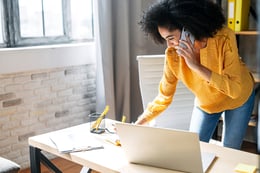 Inbound vs Outbound Marketing: What's The Difference?
While inbound and outbound marketing are both designed to increase conversation rates and sales, they typically employ different approaches to achieve this. Inbound marketing involves creating eye-catching and relevant content that helps customers discover your business more naturally. Content creation in inbound marketing usually comes in the form of blog posts, videos, infographics, news articles, webinars, and social media.
Outbound marketing, on the other hand, entails actively reaching out to customers to get them interested in a product or service. Examples of outbound marketing include billboards, cold-calling, direct mail, trade show presentations, and advertising through TV, radio, and print media.
What Does an Inbound Marketing Agency Do?
An inbound marketing agency is an organization that leverages inbound digital marketing strategies to help to generate and convert leads online. Typically, they do this by developing content that is attractive and relevant to customers and offering SEO support to optimize their clients' websites. This helps the client achieve better visibility online and increases traffic to their web pages.
How to Spot a Good Inbound Marketing Agency in Las Vegas?
Finding the right inbound agency in Las Vegas is easy if you know what to look for. Some of the must-have qualities of an inbound marketing agency include:
1. They Use HubSpot
A good inbound marketing agency should be able to effectively use HubSpot CRM platform in their marketing strategy. HubSpot not only provides a plethora of inbound marketing tools and CRM services to ensure customers enjoy the best experience.
Fortunately, ADTACK a certified gold partner agency that integrates HubSpot Marketing software in its inbound marketing campaigns.
Find out what how ADTACK practices inbound marketing here.
2. A Positive Track Record
When choosing an inbound agency to partner with, you need to consider how successful they have been in the past. A good track record is usually an indicator that the agency will provide you with the results you are looking for.
3. Authenticity
Customers rarely respond well to marketing tactics that make them feel pressured to purchase a product or service. A good inbound agency will have a natural approach that attracts clients by providing content that is useful and relevant to them.
What Next?
At ADTACK, we pride ourselves in building effective inbound marketing campaigns that help our clients get the results they are looking for. Contact us to find out more about the services we offer.