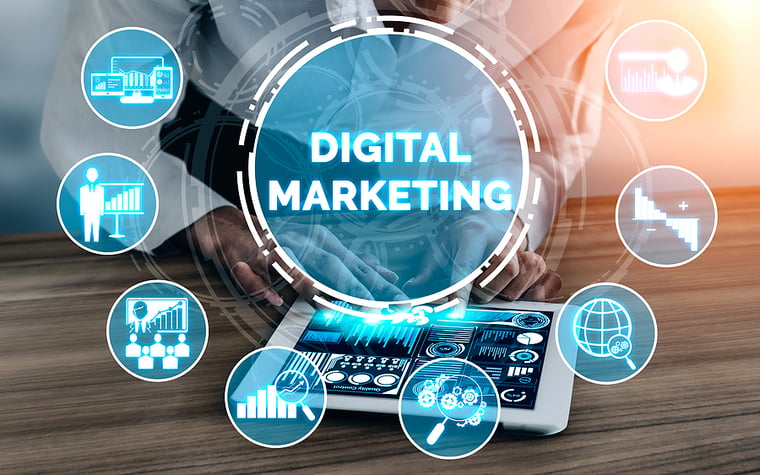 Internet traffic is continuing to increase, and it's smart for businesses to market to this growing online audience. People are increasingly using the internet to socialize, research potential purchases, shop and conduct their business. You can reach these internet users with digital marketing.
What Is Digital Marketing?
You may wonder "What is digital marketing and how does it pertain to my business?" Digital marketing refers to the techniques and methods used to appeal to an online audience.
As you learn more about what digital marketing is and craft your digital marketing campaign, you'll want to consider who you're trying to reach. Keep in mind the demographics and characteristics of your preferred audience. It's important for businesses to identify the target audience for their digital marketing campaigns to optimize the campaign's effectiveness.
Options for Digital Marketing
You have a lot of alternatives when it comes to your digital marketing campaign.
One option for digital marketing is creating content that adheres to SEO (search engine optimization) guidelines. This means that your written and digital content are created in a way that they rank favorably with search engines. The better your websites perform with search engines, the easier it is for potential customers to find your content.
Another possibility is to use social media to attract new customers and retain existing customers. A social media primer is essential knowledge as you learn more about what is digital marketing. Social media is a valuable, convenient tool to help businesses build stronger relationships with their clients and assist customers with questions and issues that they have that pertain to your product or service.
Email campaigns are another potential addition to your digital marketing campaign. An email newsletter is a great way to remain connected with your customers and follow up with clients who are close to making a purchase.
A successful digital marketing campaign usually combines multiple elements to appeal to buyers.
The Importance of Digital Marketing
Companies need to know more about what digital marketing is because traditional marketing typically isn't sufficient for long-term business growth. If a company doesn't have a digital marketing campaign, it's leaving a large customer base untapped.
Digital marketing can increase brand awareness and increase customer loyalty. This makes it easier for your business to obtain and retain your customers. However, as you research what is digital marketing, be prepared to make adjustments to your digital marketing campaign. As you learn what techniques are effective and which ones aren't cost-efficient, you'll want to alter your campaign accordingly.
Contact ADTACK Today
Digital marketing isn't a "set it and forget it" alternative. Instead, it requires constant tweaks and adjustments for optimal success. The answer to the question, "what is digital marketing" isn't a simple one, but with these tips, you'll be able to start creating an effective strategy. Contact ADTACK at 702-270-8772 to see how we can help enhance your digital marketing strategy.