If you've ever wondered what social media to use for a small business, you're not alone.
Social media is one of the most powerful marketing vehicles businesses employ today. When leveraged correctly, social media can help small businesses develop their brands, reach broader audiences, and increase conversions.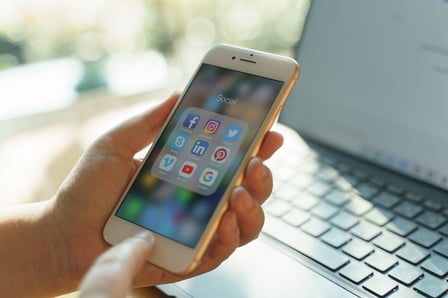 However, with dozens of social media platforms, deciding which one to focus your attention and marketing efforts on can seem daunting. This post will explore how some top social media platforms can help your marketing efforts as a small business owner.
Facebook
With over 2.9 billion active users, Facebook is one of the largest social media networks, and with this status comes a lot of potential as a marketing platform for small businesses.
Whether you aim to increase brand awareness, promote a product or generate new leads, Facebook offers many ways to attract attention. In addition to running paid ads on the platform, you can create a Facebook page or group to start attracting organic traffic and raise your brand visibility.
Instagram
Instagram is a great social media platform for business owners thanks to its large number of active users, estimated at 2 billion. The platform is especially popular with influencers, startup businesses, and coaches who gravitate to it owing to its ease of generating organic traffic.
The fact that Instagram is a visual platform allowing you to only publish posts with images attached to them makes it great for growing brand presence as users are more likely to remember what they see than what they read.
TikTok
Although TikTok is a relatively new platform compared to Facebook or Instagram, it has grown to become one of the most widely used platforms, with over a billion users worldwide. TikTok lets you publish and share short-form video content with virtually limitless reach.
Businesses can leverage this functionality to share information about their products or services, and the video format makes it ideal for demonstrating how your products work.
YouTube
YouTube is a popular video-sharing platform with the distinction of being the second-largest search engine in the world, only surpassed by Google. As you can imagine, this status makes it a formidable weapon in any business's marketing arsenal.
As a business owner, you can use YouTube to create instructional videos for your products, share your blog content in a visual format, and raise your rankings on the platform and Google.
LinkedIn
LinkedIn is an excellent platform for businesses that follow a B2B model or target customers based on job titles. As a business-oriented social media platform, LinkedIn users typically provide accurate information about themselves, thus making it easier to target them effectively for your products or services.
Twitter
As one of the oldest social media platforms, Twitter has many monthly users, which small businesses can target for conversion. The platform allows you to post photos and videos with brief copies of 280 characters.
This makes it great for conveying information quickly in real time. However, the true power of Twitter lies in its hashtag feature, which you can use to engage with your audiences and run marketing promotions.
Wrapping Up
As you can see, each social media platform has unique strengths that you can use to drive your marketing goals. ADTACK Marketing is a full-service marketing agency that designs and runs effective social media marketing campaigns for businesses in nearly every industry and niche.
Contact us today to learn how we can help grow your business!