As video-based platforms like Instagram, YouTube and TikTok become more popular every day, businesses are increasingly becoming aware of the incredible potential of video marketing. According to data from Wyzowl, 81 percent of marketers have revealed that video marketing directly helped them increase their sales and 93% of surveyed marketers say that videos helped them increase their brand awareness.
With many businesses reporting such success thanks to video marketing, perhaps it's time for you to enlist a video marketing agency in Las Vegas to help drive your marketing goals.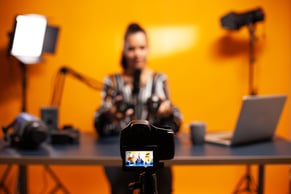 How A Video Marketing Agency Can Help You Grow Your Business
Enlisting a marketing agency who specializes in video production means you get to work with experienced professionals who understand modern marketing trends. As such, your partner agency will be able to create video content that enables you to draw organic traffic to your business.
Here are some of the ways in which a video marketing agency can help you grow your business:
1. Increased Customer Engagement
Let's face it, standing out in the highly competitive modern business world is not easy. There are numerous hurdles that you need to overcome to ensure your business rises to the top. Fortunately, the right video marketing agency can help set you apart from your competitors by creating video content that is relevant, educative, and useful thus encouraging users to engage with your videos for longer.
2. Brand Loyalty
One of the reasons why video marketing is so effective is because it employs a conversational approach to marketing rather than the aggressive sales-driven approach of traditional marketing techniques.
A professional marketing agency is aware that consumers can be skeptical and fearful about purchasing products online. Which is why they focus on creating content that ignites the emotions of potential customers and keeps them engaged. This creates a sense of loyalty and trust and gives customers more confidence to purchase online.
3. Better SEO and Increased Brand Visibility
It is no secret that visitors to your website are more likely to stay for longer if you have video content. As such, longer exposure builds trust and signals Google that your business is legitimate and has great content. Employing a video marketing agency to create high-quality, professional video content for your business can increase your search engine rankings thus raising your visibility online.
Find The Right Video Solution
If you're in need of an excellent video marketing agency in Las Vegas to help drive your marketing goals, we're happy to help. ADTACK Marketing provides you with professional video marketing solutions that focus on customer engagement and guaranteed high conversion rates. Contact us today and let us customize an effective video marketing strategy for you that will take your business to the next level.